By Devin Black, Product Marketing @ Centrifuge
Q3 2023 was one of Centrifuge's most exciting quarters yet.
Just a couple years ago, real-world assets (RWAs) were a niche topic in discussions on DeFi and the greater financial system. Today, it's a mainstream narrative — and it's catching attention of traditional institutions (and even the U.S. Federal Reserve).
Now, conversations on RWAs have moved on from "why" and on to the "how." We've been working hard behind the scenes on the most intriguing challenges of our space: building onchain securitization, sourcing liquidity for RWAs, and working towards real-world institutional (read: TradFi) adoption.
And this past quarter, we've begun to see the fruits of our labor. In this recap, we'll give you the rundown of our accomplishments as well as what specific initiatives and projects are now set in motion. Plus: learn what to expect in the coming months as our momentum continues!
Liquidity Pools: Ethereum & L2s -> Centrifuge
Imagine being able to invest in a pool of Real-World Assets on Centrifuge from any EVM chain / L2.
That's what Liquidity Pools are: deployments on Ethereum-based chains that let investors get exposure to RWAs on Centrifuge without leaving their own chain. We're starting with Base and Arbitrum, and will continue to launch on more and more chains over the coming months.
The first Centrifuge-Chain native pools will launch soon as well, taking advantage of our purpose-built onchain securitization infrastructure. These pools will accept investments cross-chain from Liquidity Pools. Read the full description and technicals of Liquidity Pools — and check out some testnet transactions — on our announcement blog post here!
The Real-World Asset Summit: Tokenization, credit, and crypto
Early this year, we decided to move forward with a new undertaking: host a single day summit of DeFi and TradFi's most important builders and thought leaders in New York City. We're happy we did so and with how it turned out: 350 attendees, 55 speakers, 15 partners — plus a great deal of hype both in-person and on social media afterwards!
Numbers and hype aside, the best part about reflecting on the Summit is the insights we gained from the deep discussions that took place both onstage and in ad-hoc conversations throughout the venue.
In our previous blog post, we shared insights from the Summit on our blog in detail. Have a read! We promise it's not all hype and celebration: there are invigorating challenges mentioned within that will take time and effort to solve for. Luckily, we're not alone in that, bringing us to the next highlight of Q3…
The Tokenized Asset Coalition: Industry leaders come together to champion Real-World Assets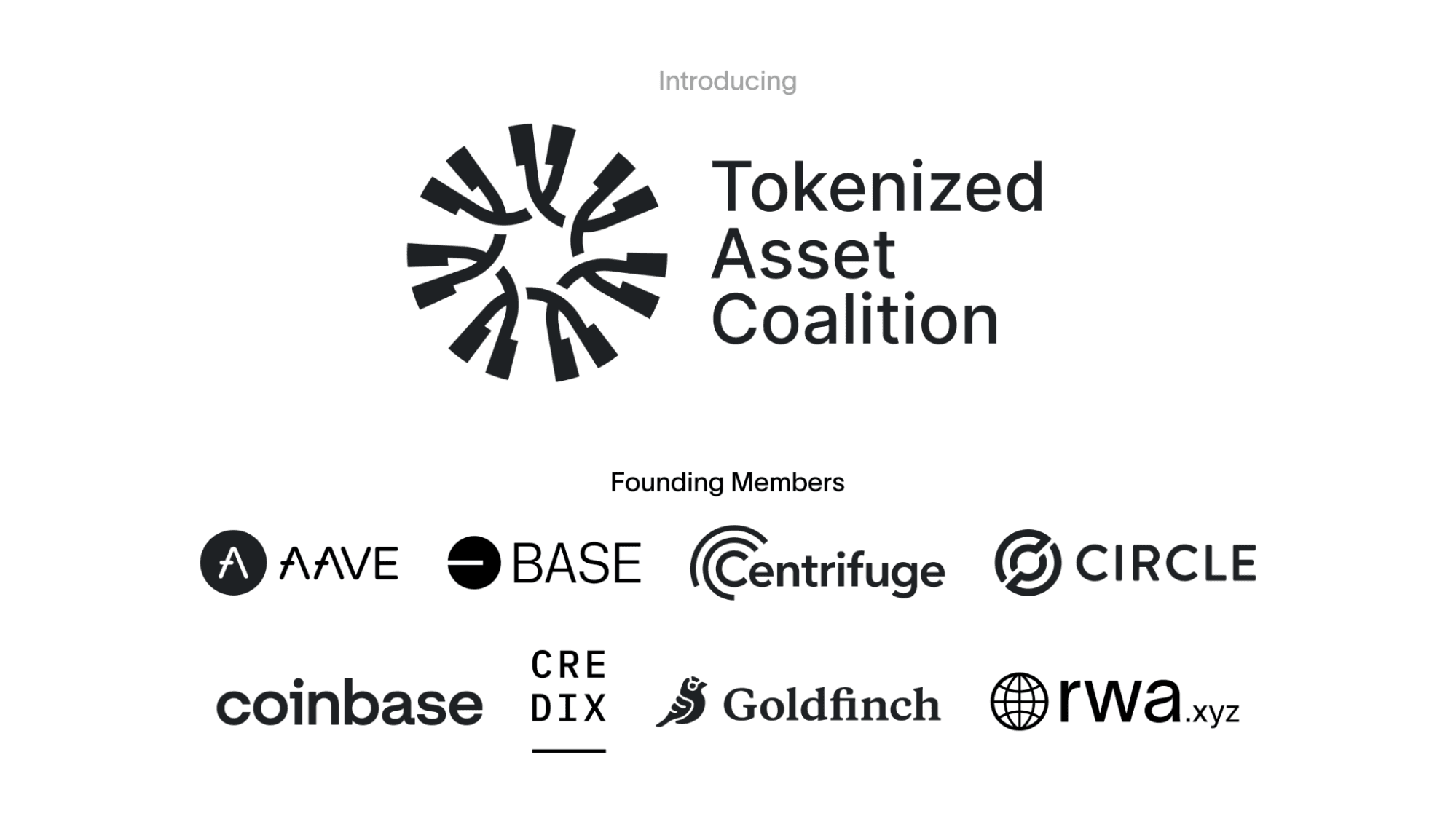 To bring the world onchain, we need to work with the best partners possible. That's why we're a founding member of the Tokenized Asset Coalition alongside industry stalwarts like Aave, Coinbase, Circle, Base, and more.
Together, we're championing the adoption of public blockchains, asset tokenization, and institutional DeFi.
Behind the scenes, the Coalition has been busy setting the foundations for advocacy work, creating educational content, and driving the adoption of institutional-focused onchain infrastructure — all kicked off by the Coalition workshop that began onsite at the Real-World Asset Summit.
Learn more about the Tokenized Asset Coalition on the official site.
Building the infrastructure powering RWAs in DeFi
Ever since backing MakerDAO's first DAI stablecoin with real-world assets, we've continued to explore how we can bring Centrifuge's capabilities to the vibrant DeFi ecosystem that, as of today (October 4th), has $44B in value onchain.
The Aave Treasury welcomes Real-World Assets via Centrifuge Prime
Centrifuge Prime is our service that onboards decentralized organizations — like DAOs and protocols — to Real-World Assets. We announced Prime back in Q2, and now we're thrilled for the first activation of this service with Aave: DeFi's #2 largest protocol by value locked.
Following an Aave government vote that passed with 99%+ approval, Aave will onboard part of its treasury to earn yield from Real-World Assets. The first pilot transaction will be an investment into Anemoy: a pool of U.S. treasury bills.
Read more about the Aave treasury allocation to Centrifuge here.
T-Bills come to Centrifuge Chain
Tokenized treasuries are a fast-growing segment of real-world assets. Anemoy is a new issuer on Centrifuge that recently passed the Pool Onboarding Proposal process for their Liquid Treasury Fund.
We're excited to welcome Anemoy as one of the first pools to launch on Centrifuge Chain — and with it, the capability for investors to gain onchain exposure to U.S. treasuries, whether these investors are protocol/DAO treasuries like Aave or individual investors across the Ethereum L2 ecosystem!
New Silver increases its MakerDAO Credit Line to $50M
A MakerDAO governance proposal passed with 99.93% approval to increase the debt ceiling of Centrifuge pool New Silver from $20M to $50M. This means that New Silver can now draw up to $50M in liquidity from MakerDAO, one of DeFi's largest protocols.
More exciting is the progress this represents for RWA's place within a composable DeFi ecosystem. At the new debt ceiling of $50M and the rate of 7%, New Silver will pay $3.5M/yr to MakerDAO for their investment.
Future Milestones
We've accomplished a lot, but the work is far from over. Here's what you can expect from us in the coming months.
Rollout of additional Liquidity Pools: Expect Liquidity Pools to go live on a variety of Ethereum L2s, opening up more avenues for investing in RWAs.
Pools launch on Centrifuge Chain: Our purpose-built securitization infrastructure is ready, and the first pools — like Anemoy — are at various stages in the proposal, credit group, and launch processes.
Tokenized Asset Coalition: Beyond just advocacy, the Coalition is gearing up for a series of tools and resources that will help both institutional and individual investors navigate the tokenized asset landscape.
Centrifuge Prime: Following our successful partnership with Aave, we are in talks with multiple other DeFi protocols to onboard them to Centrifuge.
Centrifuge in the news
What we're reading