By Asad Khan, Protocol Partnerships @ Centrifuge.
Originally published on Medium on June 7, 2023.
We're excited to introduce Centrifuge Prime, a comprehensive suite of services and technologies that helps DeFi-native organizations — like DAOs, stablecoins, and protocols — easily onboard and scale a portfolio of real-world assets (RWAs).
We provide the tools needed to onboard a full portfolio of RWAs: a compliant legal framework purpose-built for DAOs and DeFi protocols, a sophisticated tokenization and issuance platform, decentralized and objective credit risk and financial reporting, and a diversified set of asset classes and issuers.
Centrifuge Prime enables DeFi organizations to scale, diversify, and gain a unique advantage through RWAs.
Unlock Real Yields with Centrifuge Prime
Real-world assets are playing a critical role in the evolution of DeFi markets.
Centrifuge Prime provides access to a market that is expected to grow to $16T by 2030. By investing in tokenized assets in the real-world, DeFi markets can generate yields that provide great risk-adjusted returns, are uncorrelated to crypto volatility, and enable a new driver of revenue and growth.
There is no shortage of opportunity. Certain RWAs are among the most liquid in the world (like US treasuries), ensuring a portion of your idle cash will always be liquid and accessible. Diversifying a portfolio across multiple asset classes can hedge against unknown risks and continue to provide income, even during down markets. An appropriate allocation to RWA alongside DeFi native yields can be a critical advantage.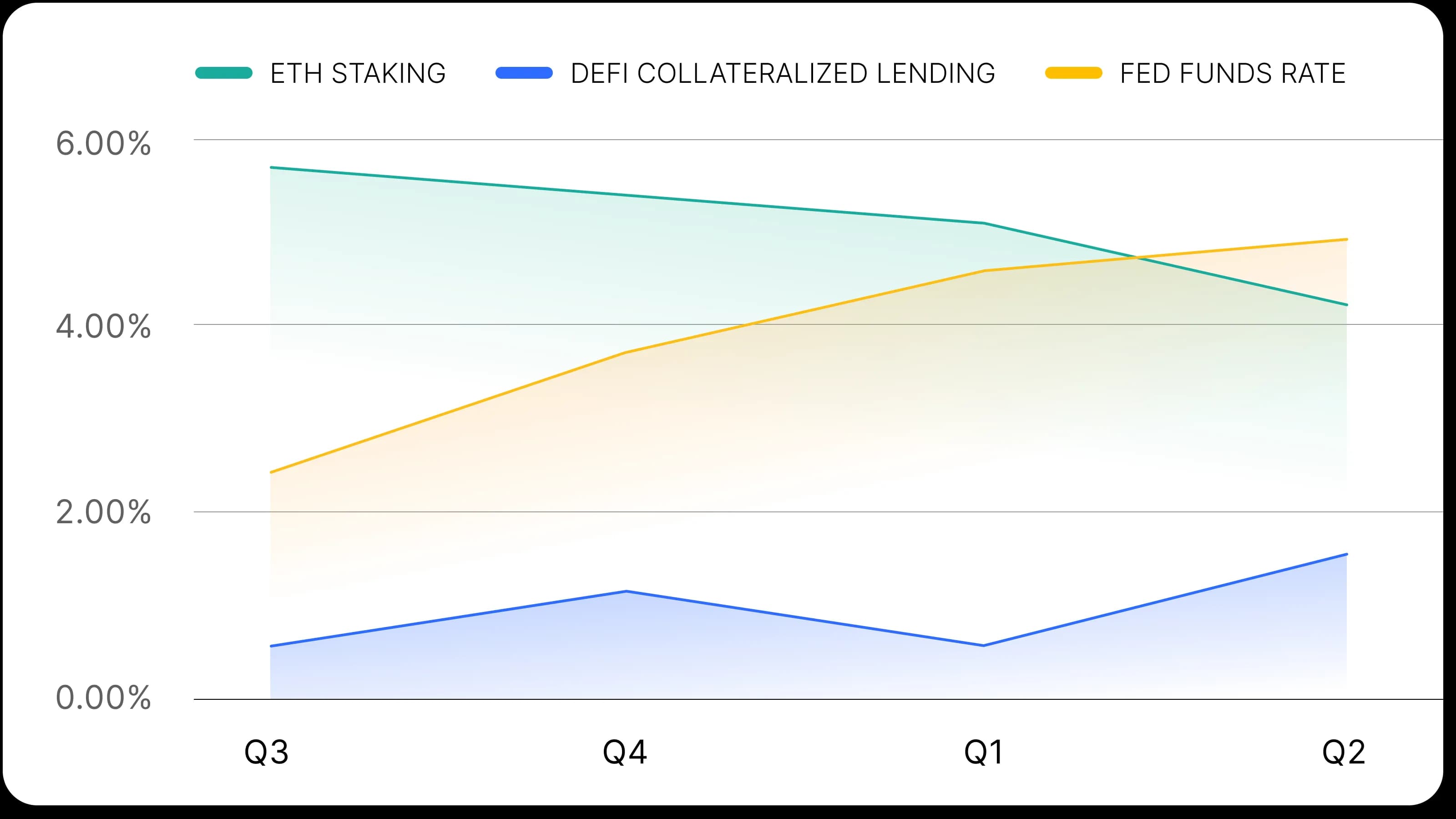 Centrifuge Prime brings these assets and capabilities directly into DeFi-native organizations — without overwhelming governance; without requiring new resources or bespoke capabilities; without requiring you to have a PhD in credit risk or an LLM in legal structures.
Bringing Credit to DAOs and Protocols
Centrifuge Prime was created to bring real-world credit markets to decentralized organizations, protocols, and stablecoins.
Through Centrifuge Prime, organizations can construct a portfolio of credit that fits their exact needs. Rather than buying a generic offering, investors can build a portfolio that matches up with their own specific risk appetite and investment timelines.
With returns starting at 4%, and scaling to 13%+, Centrifuge Prime offers a host of solutions to meet any organization or protocol's needs.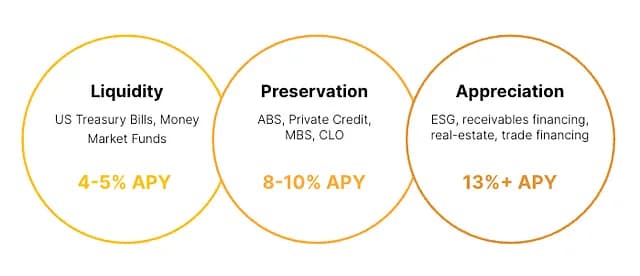 RWAs are a broad spectrum of investment opportunities, from real estate, to commodities, to supply-chain financing and more. However, it's not just one asset class that will make a difference. It's the ability to use these assets together — as part of a diversified portfolio or a differentiated offering — that is the key to DeFi's success.
Why Centrifuge Prime?
We are leveraging Centrifuge's technical infrastructure to provide RWAs in a composable and tokenized format. Our out-of-the-box legal setup allows a decentralized organization to natively own these tokens, providing a compliant and resilient structure.
Members of the Centrifuge ecosystem and DAO can provide critical services to maintain and manage this portfolio. The Credit Group, a decentralized independent third-party, can provide credit risk analysis and underwriting, while partners like Steakhouse Financial can provide financial reporting.
Pioneering RWA in DeFi
As DeFi's real-world asset platform (with $204M TVL as of time of writing), Centrifuge is the first to connect DeFi protocols, individual, and institutional investors with qualified borrowers through a single institutional ecosystem for on-chain credit.
We onboarded the first real-world assets to MakerDAO, launched the first market for real-world assets on Aave, and launched the first institutional credit fund to bring their collateralized lending operations on-chain.
The home for institutional credit on-chain
Another advantage of Centrifuge Prime can be found in the assets and issuers that are available. Issuers on Centrifuge can provide investment grade liquid credits, treasury bills, credit funds, real-estate, supply-chain financing, and a variety of other opportunities — all tokenized and issued through the Centrifuge protocol.
From institutional names like BlockTower Credit, to long-time DeFi participants like New Silver, and with an ever growing list of partners and providers, Centrifuge is the home for institutional credit on-chain.
Join the Beta!
Join us on this exciting journey as we revolutionize the world of real-world assets. Sign up for our beta and be the first to experience the benefits of Centrifuge Prime.
Big shoutout to Devin Black for leading the authoring and editing of this blog post!